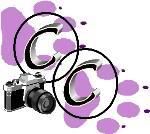 I was walking through the market, when I caught sight of this gorgeous little furball! It is 9of course!) a Pekingese, an ancient and venerable breed of Chinese dog, once only owned by the Chinese Emperors and now popular throughout the world.
Despite looking at me most engagingly when I first spied him, as soon as I got my camera out he played hard to get!
Then as I was buying my oranges, he came up and posed for me.
Hmm, do these wares look tasty enough that it's worth the effort of persuading this very odd looking human (she must be ill poor thing, look at her weird eyes and pale hair) to give me some?
Ok, that's your lot for the day lady, I've got posts to sniff and other admirers waiting!